Fountain Valley Real Estate Transaction and Litigation Lawyer
Whether you are a homeowner seeking assistance with a new home purchase, the buyer or seller of a commercial property, or an investor with an opportunity to protect or a foreclosure matter, you deserve to have an experienced real estate expert on your site to counsel you through your real estate matter quickly and successfully.
Fountain Valley real estate lawyer Edwin Fahlen – understands that the ease of working with a real estate lawyer dramatically affects the ultimate speed, cost, and outcome of a property transaction or dispute. Ed is easy to talk to, listens intently to his clients so that his understanding of their concerns and desired outcome becomes his focused concern. Mr. Fahlen has more than 25 years of experience in the areas of real estate law and is not only a Real Estate Lawyer, but is a licensed Real Estate Broker and Realtor® too.

Edwin Fahlen has taken a client-focused approach – to real estate matters for almost three decades. We realize that to take advantage of your real estate opportunity or resolve your real estate matter or dispute, that Ed's clients need to work one on one with their lawyer initially and as the transaction or case progresses. Ed's new and long-term clients have confidence that their real estate matter will be resolved effectively and efficiently.
Experienced Fountain Valley Real Estate Lawyer
Fountain Valley Real Estate Lawyer Edwin Fahlen applies his extensive knowledge about real estate issues, property rights, and finance to all areas of real estate law. With 27 years of experience in real estate law, Ed can help you with:
Residential home sales transactions
Commercial property sales transactions
Homeowners associations
Condominium law
Landlord-tenant disputes
Evictions

Foreclosures
Real estate contracts
Eminent domain
Zoning, land use and building permits
Boundary and easement disputes
Title disputes
Real Estate Transaction Attorney
From initial offer to concluding the sale, as a real estate lawyer –and– a real estate broker, Edwin Fahlen is able to handle all aspects of buying and selling real estate. You can be confident about a smooth and precise real estate transaction. Mr. Fahlen can:
Draft or review your sales contract
Negotiate real estate agreements
Review your lending documents
Search and clear title

Analyze your deal
Rectify potential problems
Handle land use, zoning and permitting
Conduct your real estate closing
Real Estate Litigation Attorney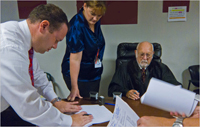 Real estate litigation requires substantial knowledge about property laws coupled with civil litigation experience. Fountain Valley Real Estate Lawyer Edwin Fahlen possess the specialized knowledge necessary to successfully litigate your real estate disputes.
Real Estate Contract Negotiator
Many real estate disputes are better solved before they happen. By retaining an experienced contract negotiator during the contract negotiation process, you can often prevent disputes from arising at a later stage in the real estate transaction. This can save time, costs and frustration.
A Fountain Valley Real Estate Law Firm
Offering a Broad Range of Real Estate Services
At the Law Offices of Edwin Fahlen, we handle many routine and complex real estate transactions and disputes for clients in Fountain Valley and throughout Orange County California. These include:
Purchase and sale disputes
Title and boundary disputes
Fraud/nondisclosure of defects actions
Disputes with real estate agents or brokers
Easement and neighbor disputes
Zoning and land use disputes
Foreclosure
Quiet title and partition actions
Ownership agreements
Negotiation & drafting of purchase agreements for residential and commercial property
Negotiation and drafting of commercial leases
Real Estate Transactions
When our clients have real estate transactional needs, we thoroughly review all aspects of their transactions to ensure that their interests are protected moving forward. In real estate transactions, we use our 25+ years of legal and broker/Realtor® experience to bear on transactions that many lawyers are just not comfortable and familiar with adding unnecessary costs getting up to speed on everyday real estate matters that Ed has handled 1,000's of times.
Discuss Your Real Estate Needs – Schedule a Free Consultation
Fountain Valley real estate lawyer Edwin Fahlen can speak with you about your real estate needs at our Fountain Valley offices, or even at your home or place of business. To arrange a consultation, please call (714) 395-5605 today. We are ALWAYS personally available 24/7 to take your call.
Free Introductory Meeting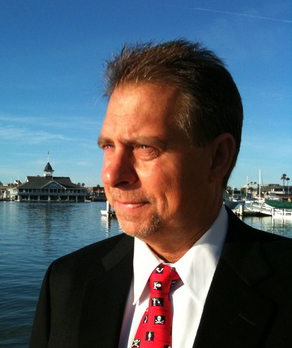 I encourage you to reach out to make that free introductory meeting with me by calling (714) 395-5605. There is absolutely no pressure whatsoever. Typically, people will want to sit down with a real estate lawyer to discuss their current opportunity or dilemma. I am pleased to offer this complementary legal service to residents of Orange County and beyond.
If it is late at night or inconvenient to call me, please email me using my CONTACT US form on the left side of the screen. This form comes directly to my desk. I will contact you the minute I see it.
Conveniently located in Fountain Valley
We are located in Fountain Valley off the 405 Freeway. Here is a picture of my office building and a Google Map to get your bearings.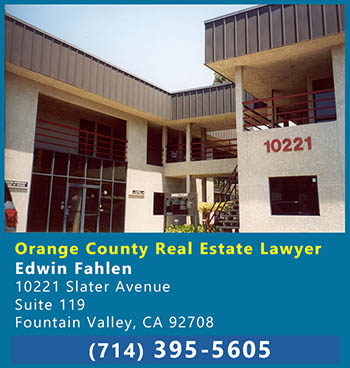 ---

---
Orange County real estate lawyer Edwin Fahlen services all of Orange County including the following cities: Aliso Viejo, Anaheim, Brea, Buena Park, Costa Mesa, Cypress, Dana Point, Fountain Valley, Fullerton, Garden Grove, Huntington Beach, Irvine, La Habra, La Palma, Laguna Beach, Laguna Hills, Laguna Niguel, Laguna Woods, Lake Forest, Los Alamitos, Mission Viejo, Newport Beach, Orange, Placentia, Rancho Santa Margarita, San Clemente, San Juan Capistrano, Santa Ana, Seal Beach, Stanton, Tustin, Villa Park, Westminster, and Yorba Linda.